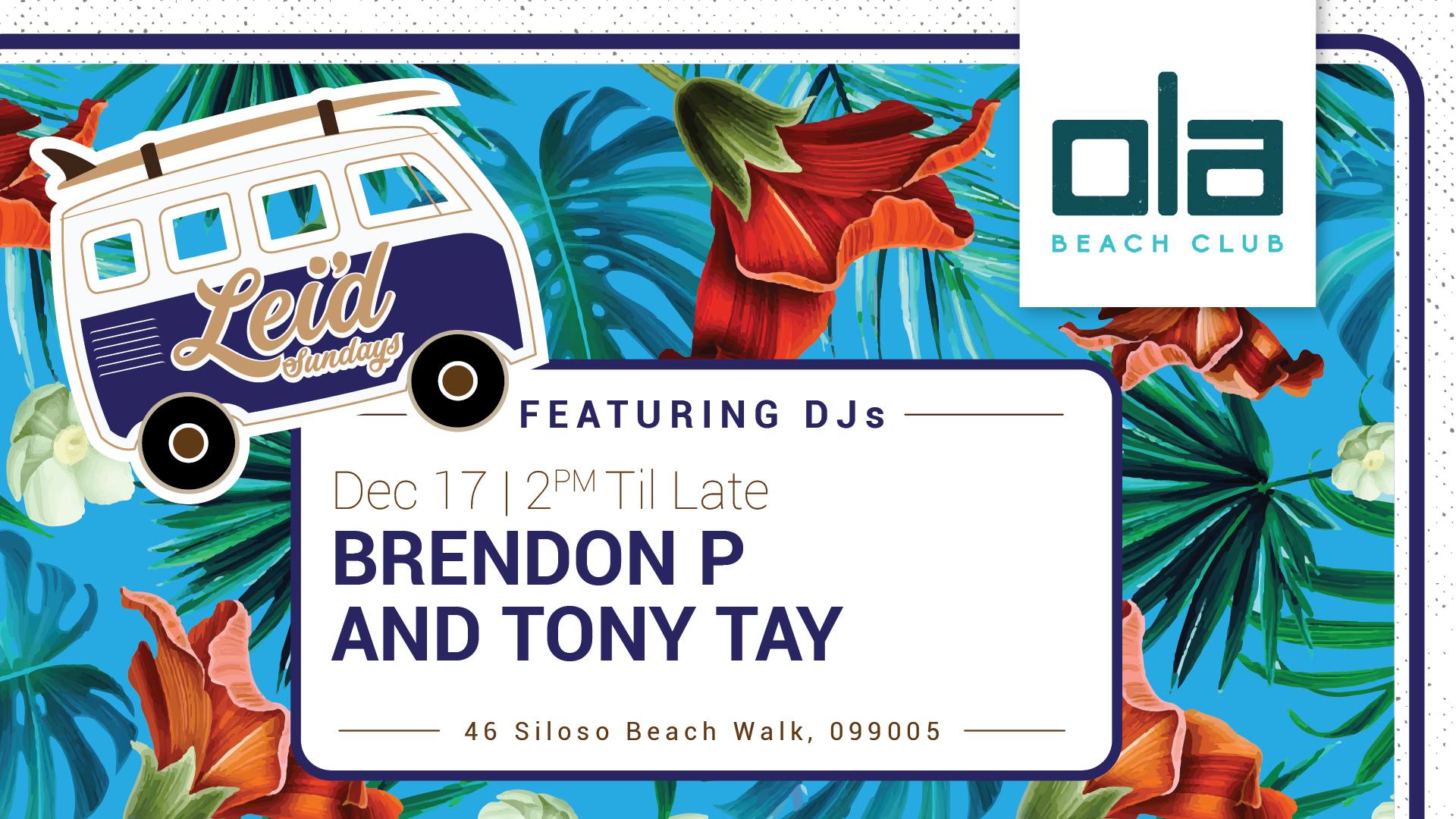 LEI'D SUNDAYS PRESENTED BY OLA BEACH CLUB
with Brendon P (CÉ LA VI Singapore) and Tony Tay [Official] (SG)
Sunday 17 December 2017
2pm to late
No cover charge
***
Get ready to rumble with the clash of the Zouk titans! The revered veterans Brendon P and Tony Tay have broken out of our electric dreams and reunite again on the island by the powers of Lei'd for a good ol' groovy showdown!
So get funked. Get Lei'd. The only way to wind up your weekend is with sun-kissed frills and beachfront thrills!
***
~TABLE & CABANA RESERVATIONS~
[email protected] | 8189 6601
~OLA BEACH CLUB PROMOTIONS~
Nude Oysters at $1.99++
Minimum of half dozen
G.H. Mumm Champagne special
$180++ for 1 bottle
$288++ for 2 bottles
Perrier Jouët special
$220++ for 1 bottle
$358++ for 2 bottles
Kona Beer Bucket (5 bottles) $60++
Choice of Hanalei Island IPA, Big Wave Golden Ale, Longboard Lager
__________________________________________________
Brendon P (SG/CÉ LA VI Singapore)

He prefers the low-profile, lo-fi approach to his work, but, with a career thats 3 decades young and still growing, Brendon P has a long history of Clubs and Music. Starting out in 1980 in the local mobile circuit, and moving on to Clubs a year later. A visit to New York in 1984, and going to clubs such as the Funhouse, the Paradise Garage, Dancetaria and Area weaned him into the New York club culture, and into the music that was to become the house music that we hear today. Crossing vast musical backgrounds over his years as a DJ, both locally and internationally, he continued to acquire a keen ear and passion for dance music. Having completed a 8 year residency at the globally renowned, Zouk Club in Singapore (in May 2009), playing with dj's like Dubfire/Deep Dish, Francois K, Charles Webster, Dennis Ferrer, Darren Emerson, Carl Craig, (the late) Kenny Hawkes, Little Louie Vega, Bill Brewster, Argy, Ian Pooley & Swag to name a few, Brendon now hosts several monthly and weekly residencies around the island as well as his international schedule which includes the U.S.A, Europe, Asia and most recently, the Maldives in December 2012.
Having DJ'ed in cities across the globe (including Geneva, Gothenburg, Melbourne, London, New York, Miami, Taiwan, Hanoi & Hong Kong, just to name a few) and having recently played at the world renowned Cielo Club in New York in June 2010, Brendon, in his own and separate right, as a producer, has also released his own original material/remixes on In The Woods (USA), Los Grandes (Spain), Reversoulmusic (USA), Audio Parallax (UK), Hotbox Music (USA), Soul Shift (USA), Defected (UK), Rawjak (SG), Eclesia (SG), Issys Groove (UK), Love International (MY) and One With Music (SG). With his stringent adherence to music style and sophistication and attention to detail, it's not difficult to understand why Nicolas Mattar, owner of New York's globally recognized 'Cielo', calls him a 'taste-master' and one of the best DJ's in the region. Expect nothing less from him, than a set that crosses vast musical boundaries; past, present and future
Tony Tay (SG)

A DJ / Producer with his roots stemming from dance music the other side of the 4/4 norm, Tony hailed as the Ambassador of Breaks in Asia, is a man of constant reinvention. Having joined Zouk in 1996, Tony Tay firmly found his place in Phuture, churning out dance music the other side of the 4/4 norm. Tony stays adamant and dedicated to pushing the boundaries with his residency nights, "Sirens". He has also been credited in the album releases of Hybrid, Tayo, Hyper, Ali B and Evil Nine for his contribution in spreading the Breakbeat gospel.
From 1999 through 2010, Sirens has been synonymous with the sonic realms of Breaks, Beats and Beyond. It was originally a series of parties thrown on a whim. Most notably, the longest-standing Breaks night in Asia, Sirens continues to break new ground; playing a cross section of Phat, Rockish, Driving and Tech Funk sounds, along with a broad spectrum of cutting edge Electronic dance music. "Sirens" has also gone a notch higher to give the local clubbing massive, an enhanced party experience with the accompaniment of live visuals to Tony's electrifying soundscapes. It has now amassed a following of its own bringing out local talents as well as showcasing international artists like, Adam Freeland, Evil Nine, Future Funk Squad, General Midi, Hybrid, Hyper, Koma & Bones, Meat Katie and Tayo just to name but a few.
Tony has produced several tracks of his own which have been aired on Angus Robinson's Proton Radio show on Money Shot Radio, Peter Paul's show on ibreaks Radio and on DJ Icey – Automatic Static Radio Show (BoomBox Channel 34) which broadcasts on Sirius Satellite that covers all of North America and Hawaii.
Staying true to his nature of not holing himself into any particular genre, Tony's definition of sound fuses a matrix of house music's sub-genres that merge groovy riffs, deft percussion, driving bass-lines and a host of surprises that are elemental to his sets both locally and globally. His electrifyingly forward-thinking sets have seen him play along side the likes of artists like Dubfire, James Zabiela, John Digweed, Ken Ishii, Loco Dice, Luciano, Miss Kittin, Nic Fanciulli, Reboot, Richie Hawtin, Sasha, Sven Vath, and a host of many others. On the production front, other than his breaks releases, Tony has been busying himself in the studio producing his four to the floor sound that's bound for dance floor notoriety as well.
His spacey, riding grooves bear testimony to why he is so instrumental in the development of electronic music in this part of the World. Branching out on his own now following a 14 year residency at the globally renowned Zouk Club, in Singapore, the world is a no-holds-barred place for a talent like Tony Tay.