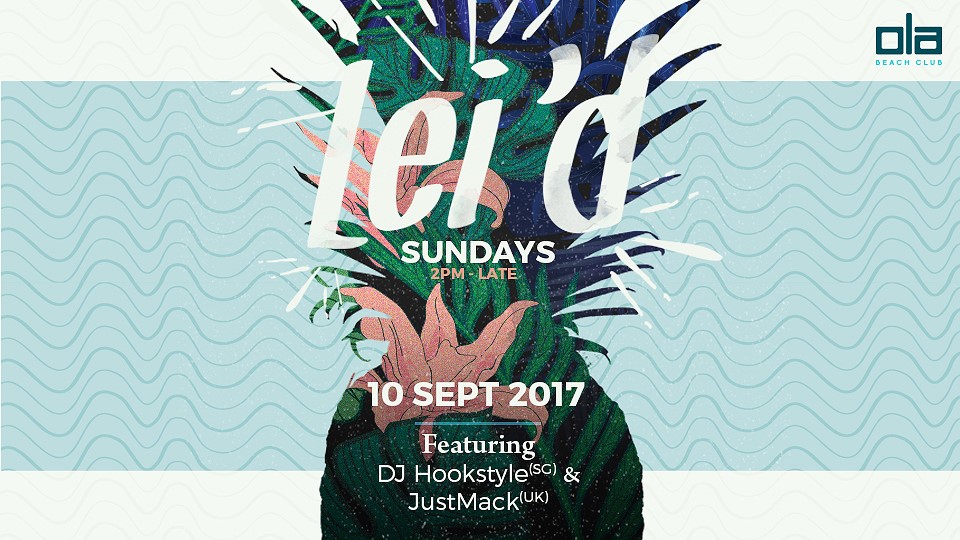 LEI'D PRESENTED BY OLA BEACH CLUB
Ft. Hookstyle (SG) and JustMack (UK)
Sunday 10 September 2017
2pm to late
No cover charge
***
Get funked. Get Lei'd.
The only way to wind up your weekend is with sun-kissed frills and beachfront thrills.
DJs Hookstyle and JustMack join us for our very first edition of choice grooves on the island. So leave those dancing shoes at home. Prepare to sink your toes and inhibitions in the sand. Find us where the music meets the ocean.
***
OLA BEACH CLUB PROMOTIONS
~ Kona Beer Buckets (5 bottles) $60++ ~
Choice of Hanalei Island IPA, Big Wave Golden Ale, Longboard Lager
~ 2 Bottles of Somersby Cider $10++ ~
With every purchase of 1/2 dozen oysters at $30++
__________________________________________________
HOOKSTYLE (SG)

Dave has been rocking the Singapore music circuit since the mid 90's, helming one of the country's most acclaimed rock bands to date – Electrico. His spirit for performing and moving souls through music led the band through an illustrious career.
In the midst of a hiatus in 1998, a pair of turntables, a fetish for vinyl records and countless hours of practice earned him a residency at the Soundbar. His infectiously eclectic mix of House, Disco, Jazz and Funk endeared himself to blossoming Singapore club circuit – Eventually spreading his soundtrack across the region.
In 2010 he became the Head Resident DJ at KU DE TA Singapore.
Dave is also a founding member of the infamous party rocking STASSH collective, with DJ KFC and Dodgy Yamamoto – which has also taken its block party vibes across the region including the Gilles Peterson Worldwide festival in 2008 sharing the decks with Todd Terje, Christian Prommer, Toshio Matsura, Gilles Peterson, Karizma, Cut Chemist and Kruder & Dorfmeister.
***
JUSTMACK (UK)

Mack first started DJing at 14 to his 4 bedroom walls in Manchester. Since then he has had residencies for Zutekh and Electronique sessions in the city and as well as running his own parties, has played at the Winter Music Conference in Miami, Weekend and Suicide Circus in Berlin and for Carl Cox at Space's closing party in 2016. Locally, he now plays at a variety of venues across Singapore and likes to mix things up, taking you through the genres of soul, funk, motown and disco, but specializing in house and techno. He believes that all music is for a time and a place, and loves to change up styles and sounds accordingly.