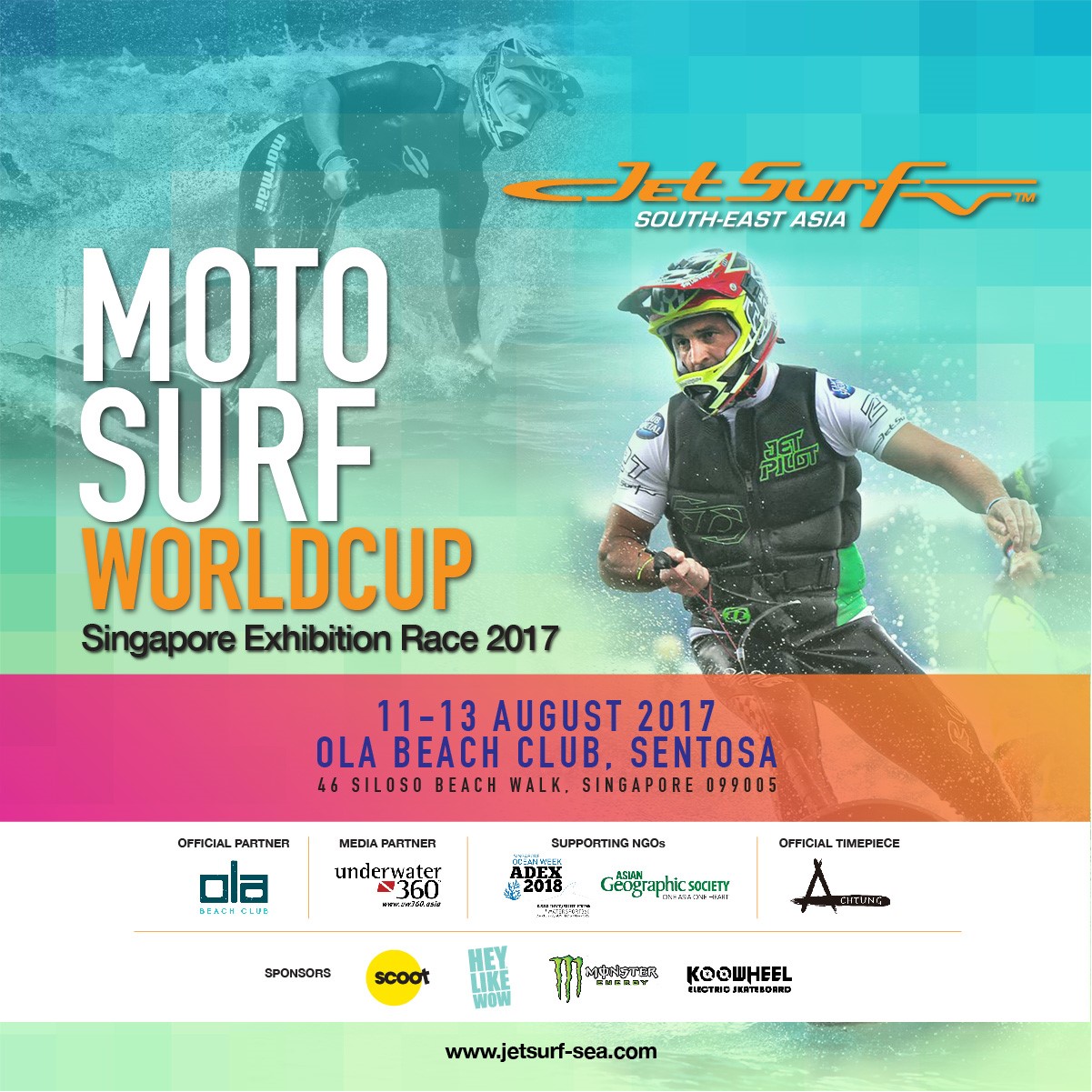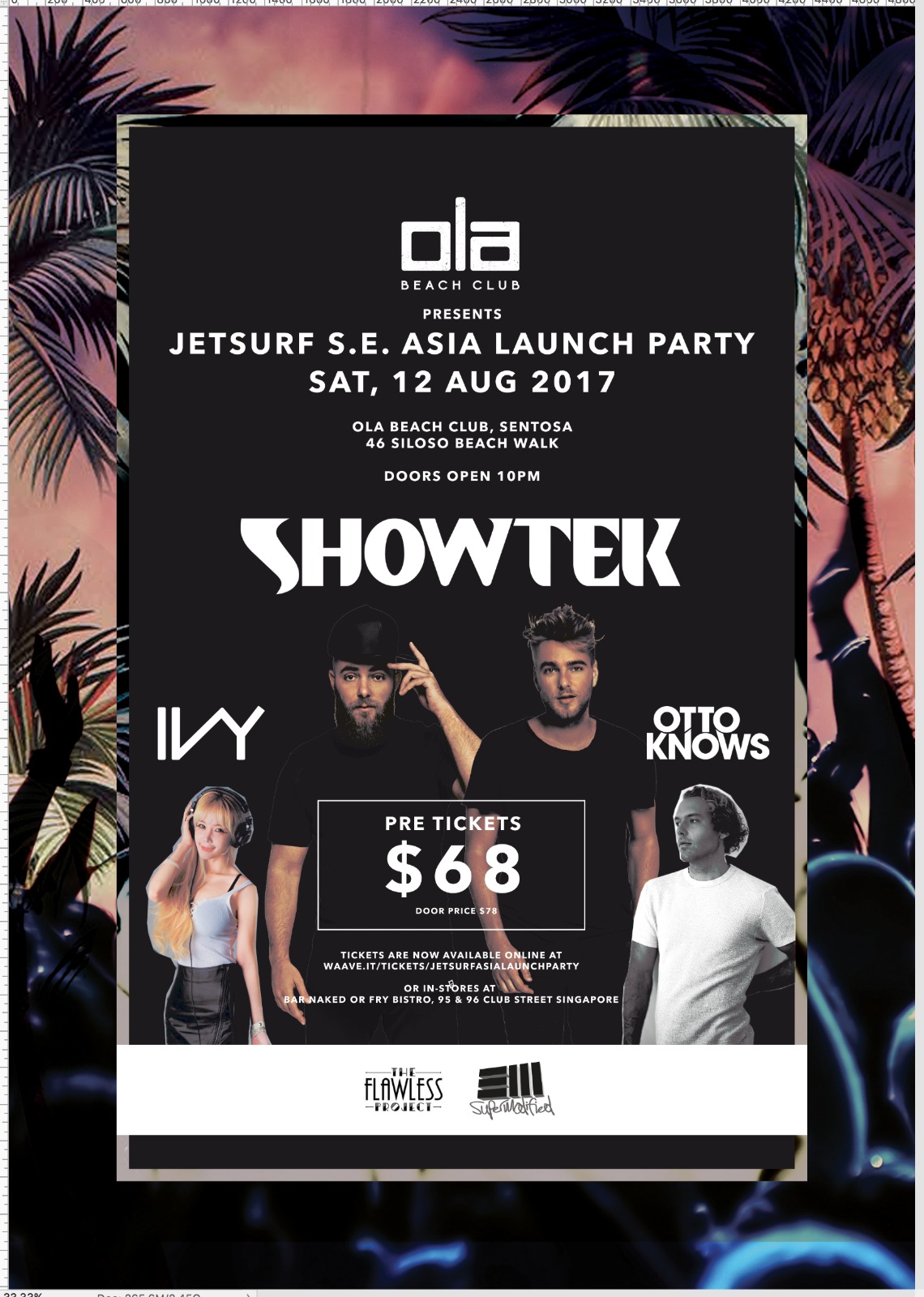 CATCH SHOWTEK LIVE IN SINGAPORE [12 AUGUST'17]
Together with Jetsurf SEA, witness the international motorized surfboard race right here on Siloso Beach, Sentosa, along with a beach party featuring international and local artistes!
Be part of the awesome beach rave party on 12 Aug together with the renowned headliner DJ Showtek from Holland – along with an exciting line-up featuring the heartthrob DJ talent Otto Knows of Sweden, EDM sensation Djivy of Korea and popular local band 53A!
For bookings and information:
https://waave.it/tickets/jetsurfasialaunchparty
PARTY NIGHT PACKAGES


JETSURF RACE: By day, witness Singapore's first-ever motorized surfboard race with the world's JetSurf heavyweights pitting themselves against one another on a gruelling sea circuit to clinch the title of JetSurf Champion!
THE SHOW ARTISTES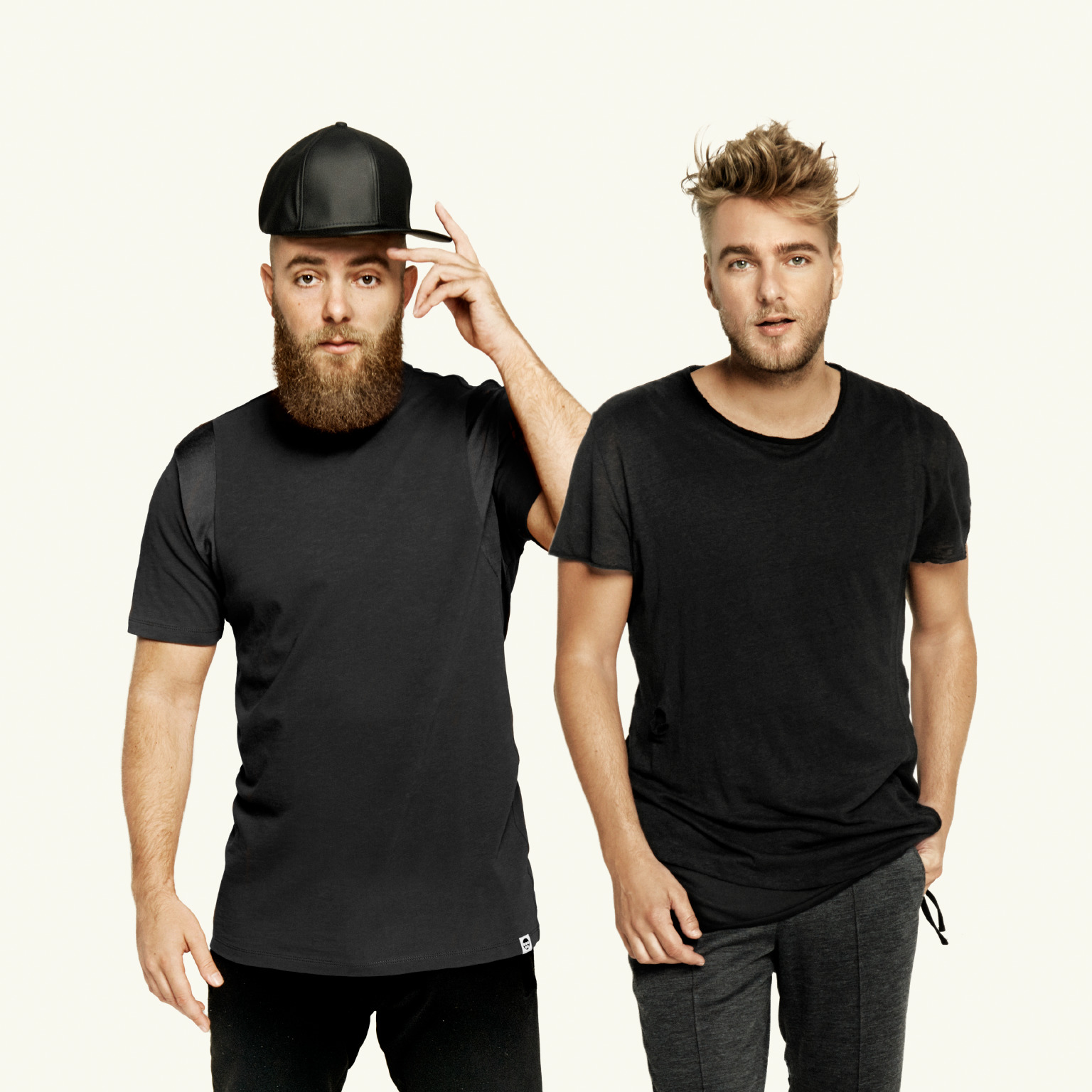 SHOWTEK (Netherlands)
Wouter and Sjoerd Janssen, aka Showtek, two brothers from Eindhoven have been making music for over a decade. Two rebels kicking against the shins of establishment, speaking a language the party crowd could believe in.
It was in 2012 when they truly exploded onto the global dance scene with the release of 'Cannonball'. Childhood dreams became reality. Countless new fans joined. New productions got recognized and reached all corners of the planet, following the release of 'Booyah'; a track that has Showtek written all over it, that it screamed it so loud that everyone sat up and listened, resulting in a top #5 spot in the UK singles chart and their first worldwide major hit! Momentum gaining, hundreds of thousands of fans worldwide have their eyes fixed on anything that is yet to come.
www.facebook.com/showtek

OTTO KNOWS (Sweden)
Part of the explosion of Swedish house DJs that dominated dancefloors in 2012, Otto Jettmann first fell for house music when he turned 16 years old and explored Stockholm's wealth of underground dance clubs. He set out to become a DJ, but in later years he hung with Avicii and the members of Swedish House Mafia, successful producers who influenced Otto to try his hand at remixing. His remix of Imogen Heap's "Hide and Seek" climbed the dance charts in 2010, the same year that Otto joined Avicii and Oliver Ingrosso on their collaborative single "iTrack." A successful remix of Dada Life's "Kick Out the Epic Motherfucker" followed in 2011, and in 2012 he launched his own solo career with the single "A Million Voices." The track dominated EDM clubs across Europe and crossed over to the pop charts in Belgium, the Netherlands, and the United Kingdom. A new single, "Parachute," was released in 2014, followed in 2015 by "Next to Me," the latter of which landed Otto his first Swedish Top Ten hit. "Dying with You," which featured Lindsey Stirling and Alex Aris, dropped in 2016, followed by "With You" in 2017.
www.facebook.com/OttoKnows

DJ IVY (South Korea)
Korean actress Chae Yi Yoon is also known as DJ Ivy in Korea. She has been very interested in music since she was a teenager and started DJing a few years ago while she was acting. From a hobby, it became a passion, and she worked relentlessly learning from the best, and fine tuning her skills. With her talent in acting, Ivy demonstrates excellent showmanship and developed her unique style as a DJ on the stage. In a short time, she has already performed at numerous music festivals & has become very popular with her legion of fast growing fan base. Ivy has performed in Korea, China , Taiwan & South East Asia Singapore, Malaysia, Myanmar , Vietnam, Thailand. Including some of the best clubs and festivals in the world such OCTAGON (Seoul – DJ Mag Asia's No. 1 Club).
www.facebook.com/djivykorea

53A (Singapore)
One of Singapore's most prominent band featuring a dynamic young crew of talented and versatile music performers from diverse backgrounds – a group of professional musicians able to operate as an acoustic duo, a six-piece band across a variety of genres – jazz, pop, rock, punk, alternative or top 40s. Features vocalist Sara Wee, lead guitarist Alvin Khoo, bassist/lead vocalist Bani Hidir, drummer Helman Kamal, keyboardist Nazaruddin Mashruddin and percussionist Serena Chen. 53A's original album 'Settle the Kettle' received positive reviews on TODAY, The Business Times and TIME Magazine.
Like our special event page @ https://www.facebook.com/Jetsurf-SEA-Launch-Party-1926951667583528/ for exciting updates!